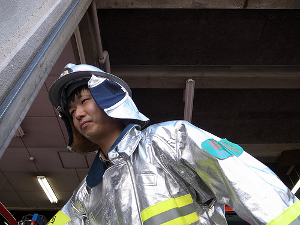 Kiwamu Okabe
My name is Kiwamu Okabe. "岡部 究" in Japanese. My favorite quotes are "壁は卵のために" and the others.
Brief
I launched my career on developing embedded devices at Ricoh Company, Ltd, and also learned application design using functional language such like Haskell. I found Metasepi project what is trying to apply strong type to embedded programming. For my first challenging, I developed an embedded Haskell compiler named Ajhc, and published some research papers.
Today, I choose ATS language as embedded functional language, and found Japan ATS User Group what holds Japanese translations about the language. And I'm implementing these technology on tiny MCU such like ARM Cortex-M series and 8bit AVR for practical use.
Metasepi is very experimental and ambitious project, however I believe that it also introduces an by-product ``the technology to design real software with predictable manpower and safety'' regardless of embedded domain.
Donate
Become a Patron!
My Icon

My Projects
Challenge to create an open-source Unix-like operating system designed with strong type such as ML or Haskell.

Extend and add embedded features to Jhc Haskell Compiler. And also a Haskell compiler customized for Metasepi.

An user group for ATS language promotion of utilization. Translating ATS documents into Japanese.

The Internet of Things (or IoT for short) refers to uniquely identifiable objects and their virtual representations in an Internet-like structure. We need the language that is good for system programming with strong type, to develop the IoT device such like inexpensive and secure.
The Functional IoT is a wrestling mat that strong typed languages fight on, to become the champion of system programming language.

A presentation tool written with Haskell. Carettah make a new presentation with command 'carettah -n markdown.md'. It's controled by keyboard or Wii Remote and a clone of Rabbit. My slide created by the tool is found at slideshare.

Others
Debian Project
I'm a Debian Maintainer, also maintain some packages.
Please read The Debian Manifesto (日本語訳) , if you don't know Debian.

Functional Programmer
I'm learning ATS programing language, and also use Haskell language for dayily use.


Personal links
Resume
Phone
E-mail address
pub   4096R/F2CBCA06 2009-09-12
      Key fingerprint = DF60 3D3A 3C15 1B2C DF19  52F4 18DD 4D72 F2CB CA06
uid                  Kiwamu Okabe <kiwamu _at_ debian.or.jp>
uid                  Kiwamu Okabe <kiwamu _at_ gmail.com>
sub   4096R/45979C03 2009-09-12